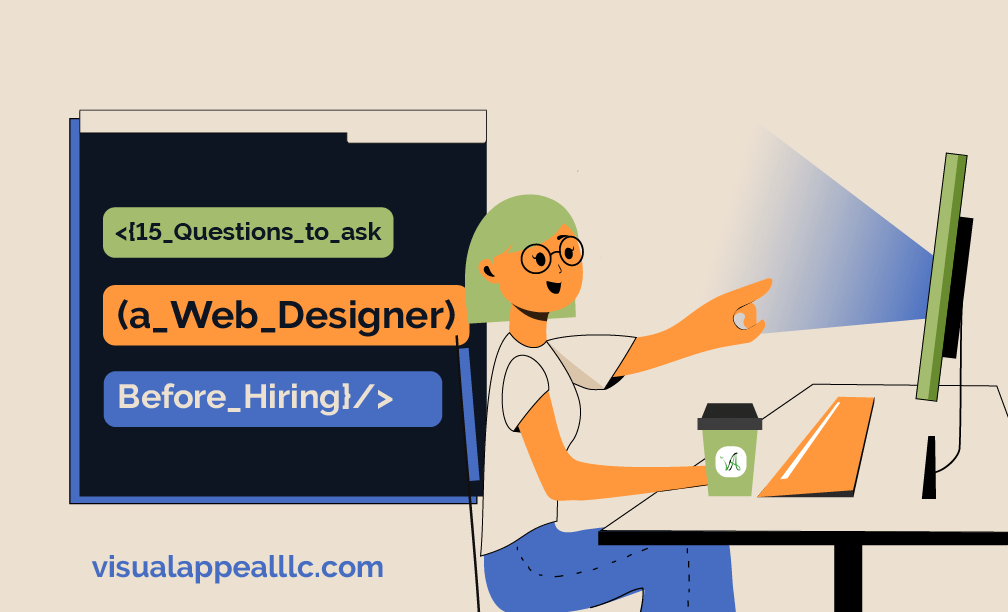 Reading time: 5 min 36 sec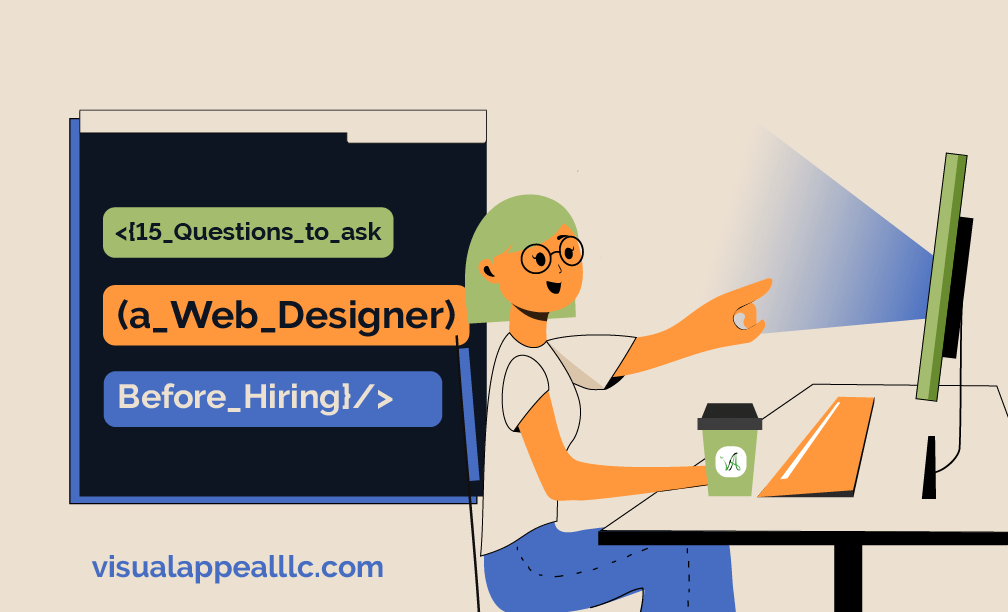 When clients want a new website created, they usually come in with a long list of questions. Here at Visual Appeal, LLC, we encourage questions and know how important it is to gather as much information as possible throughout the website development consultation process.
At Visual Appeal, LLC, we pride ourselves on having open communication with our clients. We make sure they understand the steps it will take to create a beautiful and responsive website for their company. We believe the company they choose to develop their site will determine both the outcome and the difficulty level of the process.
If you're not sure what to ask when looking for a web designer, here are fifteen of the most crucial questions to ask.
1. How long have you been creating websites?
It's always helpful to know how long the web designer has been in business since you'll want to know about their level of expertise.
You should trust them enough to return for upgrades and modifications that your company's website will eventually need.
Knowing that a particular website developer has had experience in the industry is a solid indication that they will be around for a long time to come. It will also give you an idea of their credibility.
2. Could you show me your past client work?
Always talk about the previous projects that the web designer has completed.
Many, if not all, website designers/companies have a website where they show their work. Pay attention to the visual elements and user experience when looking at their client work. Some firms only include a few high-quality case studies on their website; if you'd like to view more, simply ask!
When you're looking over their past work, consider the following: Does their work capture the visitor's attention? Are the websites they created mobile-friendly? Have they executed a website that aligns with your particular goals?
You'll want to visit the sites yourself and experiment with them. Explore them to see if you'd want anything similar.
3. Do you create your websites or do you rely on templates?
Template websites, fully custom programmed websites, and a combination of the two are all available from web designers. Is your website genuinely one-of-a-kind and using a specific programming language? Or Is it a CMS-based website that has been modified from a pre-existing theme/template, such as Squarespace and Wix?
Because not all CMS systems are created equal, it's critical to understand how your site will be built. Always ask about features and limits about what can and cannot be done.
4. Which platform(s) do you use, and which do you advise?
To create your website, most web design businesses will utilize a content management system or CMS, so take the time to research a bit!
It's important to know what content management system (CMS) your designer is using to build your website, especially if you'll be adding content and managing it yourself after launch.
Is your content management system (CMS) capable of supporting expansion and e-commerce? Are you able to make changes on your own? Do you have all of the features your company requires now and in the future?
WordPress is a well-known platform that we specialize in. This open-source content management system is ideal for building amazing designs (no templates here!). You can make changes to your website once live, even if you don't have any design expertise.
5. Are your website designs responsive?
A website's responsiveness deals with more than just how fast it performs. According to Topfloortech.com, Google ranks sites based on the responsiveness of the mobile site first, then the desktop. If your mobile experience isn't already as fast or complete as your desktop experience, there's a low chance of your site getting ranked highly on search engines.
Any website developer that you are considering should be able to construct a website that can respond to any major mobile devices, desktops, tablets, and laptops.
6. What is your company's typical design process?
Check whether your web designer uses project management software or has a defined design process. If they do, it's a good indicator they've got a lot of expertise and can guide you through the full web design and development process from beginning to end.
Find a designer/project manager that will keep you on track, on budget, and on time to launch!
7. What's your estimated turnaround?
The answer isn't always obvious, but please remember that building a successful website takes time.
If your designer pledges to be able to provide your new site in a matter of days, this is a red flag.
The exact length of time it will take is determined by several factors, including the size of the site, the nature of the project, and your ability to communicate and respond to requests.
An experienced designer can give you a reasonable estimate based on their previous work on comparable projects, but don't expect to have everything up and running next week.
8. Are your websites SEO-friendly?
Search engine optimization should be a part of your site development from the start. Image optimization, screen size, alt tagging, mobile-friendliness, and keyword research are all SEO methods that may help your site rank higher on Google. Specifically for Small businesses, having a well-optimized website is essential for generating leads on the web.
Check whether your web designer integrates SEO from the start of the project to guarantee that your website has the base you need to be found online.
9. How many pages should my website have?
At Visual Appeal, we typically construct web pages that contain a 5-page framework
The sort of website and content you have will determine how many and what types of pages you will need. For example, a blog webpage will require completely different pages in comparison to an e-commerce site. Check with your web designer to see if their services include a custom 404 page, terms and conditions, privacy policy, cookie policy, and any additional landing pages.
10. What do you need from me before we start this project?
To avoid scrambling for material, photos, passwords, and so on, ask this question at the start of the project. Set up a meeting with your web designer and make a list of everything you'll need to get started.
11. Should I provide a copy of the website content?
Because most web designers aren't copywriters, they'll either hire a copywriter to create marketing-focused material for your site or ask you to provide it. Giving your written material to an editor for proofing and asking coworkers to evaluate it is a great approach. Because the content on your website is so essential, we recommend that you hire a professional to do it correctly the first time.
12. Should I provide Images for the website?
Depending on what images you need, the web designer can help you determine if you'll require professional photography or can purchase for stock photos. You will need to provide all of your branding assets, logo, fonts, colors. (If you are starting from scratch and do not have these elements in place, Visual Appeal can help!)
13. Who will be the point of contact for this project?
Working with a team on your website can be effective at times and inefficient at others, but having a single point of contact for your site will ensure that one person is in charge of the project at all times: research, strategy, design, development, launch, and review. Ask about the project management process used by your designer.
14. What training/support do you offer when the site is launched?
If you want to make changes and updates on your own, make sure your web designer chooses a user-friendly and easy-to-use web platform so you can maintain the site yourself. Ask about website training sessions with your web designer.
At Visual Appeal, we provide a post-launch support/maintenance plan for long-term help if you want to just submit modifications and updates rather than doing it yourself.
15. Do you provide any additional services that we should think about?
It's always a good idea to work with one team for all your marketing needs because they will know your brand inside out! Here at Visual Appeal, we can offer multiple services, such as:
We support strong brands with consistently creative and technical solutions for businesses and organizations nationwide. Our collaborative team is committed to providing professional, client-focused services that will meet and exceed your expectations.